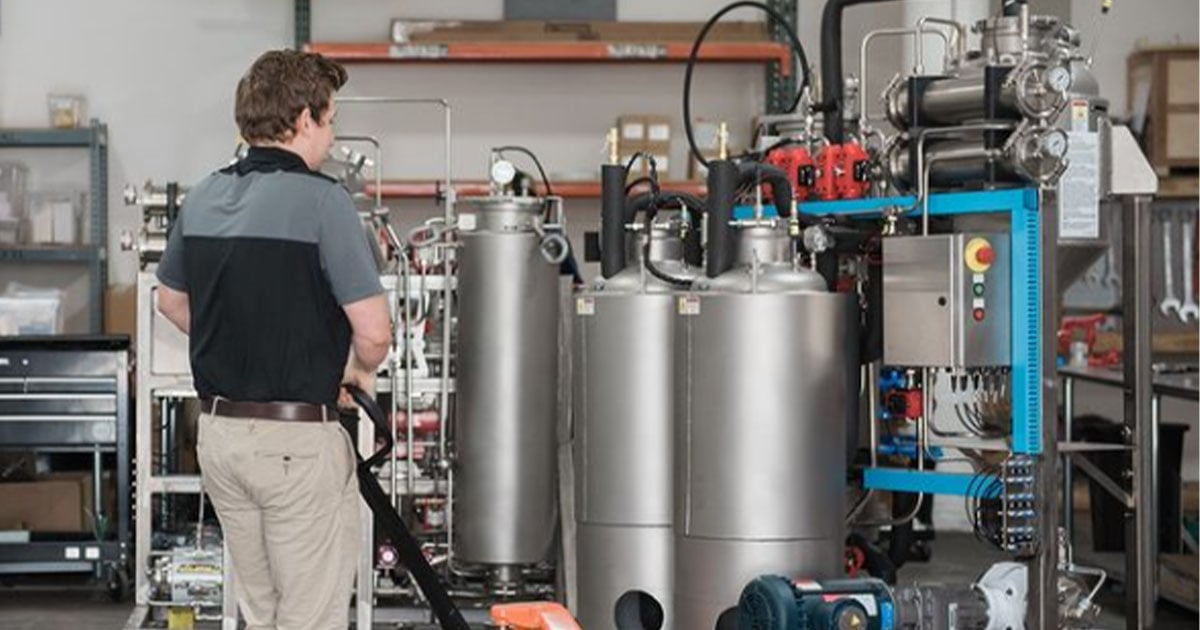 Are you considering purchasing an ethanol or butane hash oil (BHO) cannabis extractor? In this blossoming industry, you need extraction equipment that can process a high amount of biomass, achieve 0 parts per million, and produce terp-heavy dabs.
Getting started in extraction can be confusing. Prepping, planning, and designing the perfect facility and workflow and getting the local approval process must be done correctly to ensure a return on investment (ROI). Luna Technologies offers fully integrated automated cannabis extractors suited to high-quality, large-scale production, but guidance on getting a processing facility up and running can be hard to find.
Pre-Purchase
When you're ready to purchase your first automated cannabis extractor, Luna Technologies can help. We provide a comprehensive approach that includes everything from pre-planning, coordination with engineering and construction, facility design support, and equipment installation to ongoing maintenance.
We work with customers to determine the best way to implement their automated cannabis extractor. We coordinate with engineers and architects for equipment layout and requirements, provide 2D and 3D CAD files for facility layout and design, recommendations for post-processing equipment, and financing assistance through trusted partners. Our team will also provide demonstrations of our systems so you can see how they operate firsthand.
Before your equipment leaves our manufacturing facility, it completes rigorous factory acceptance testing, including functional testing of all subsystems, and pressure testing according to ASME B31.3 standards.
When you purchase an extractor from Luna Technologies, you're not just getting the equipment; you're getting our expertise as well. We offer ongoing support through our skilled technicians with over 50 years of experience in automated process equipment and cannabis, who are available by email, phone, or video. You should also know that with our Lifetime Guarantee, we offer service and support for the life of the product.
Documentation
One of the most critical steps in purchasing an automated cannabis extractor is ensuring that you have the proper documentation. This can include layouts of the extraction equipment, certification of engineer peer review, and other documentation that may be required by state regulators.
We will work with your staff to determine your goals, needs, and budget requirements and provide the necessary information so that you can make an informed system purchase. We provide everything you need to prove your facility will meet all applicable codes and regulations on safe solvent storage, ventilation, and use.
Luna Technologies can assist with the following:
Extraction equipment layout: Work directly with your team to determine the best placement for our extraction equipment in your facility
Operating costs: Provide estimates for electricity, water, and other consumables used during the extraction
Installation drawings: Provide detailed drawings for your engineers, architects, or contractors to reference for installing equipment and for submission to your local regulators for an easy installation
Engineering Peer Review: Conduct a third-party peer review of the extraction equipment for NFPA 1 compliance
Maintenance schedule: Provide a list of scheduled maintenance tasks for each piece of equipment
Having the proper documentation can streamline the permit approval process for cannabis extraction facilities. Starting on the right foot with peer-approved extraction equipment and a compliant facility sets you up for success and the ability to scale as needed.
Pre-Commissioning
After our Service and Support Technicians remotely assist your team with the equipment installation, we walk you through a detailed Pre-Commissioning process. During this phase, each extractor and support equipment subsystem is tested. Our support team is available through the entire pre-commissioning process. Once everything is complete, we schedule a video call to review the installation with you and ensure everything is ready for us to arrive on-site for commissioning.
Commissioning
On-site commissioning is included with the sale of all of our extractors. The commissioning process is essential in owning and operating a cannabis extractor. Commissioning is the first time the extractor is used to process cannabis, and it is also the first time that all components are started together after delivery.
At Luna Technologies, we understand the importance of commissioning your extractor. That is why onsite commissioning is included in the purchase price.
We have a team of trained technicians who will come to your facility to work hand-in-hand with your team to start up and commission the equipment. Our technicians have years of experience working with our machines and know exactly how to get them up and running safely – including the proper setup, calibration, and troubleshooting.
Our commissioning process includes the following:
Service and Support team onsite
Confirm all components operate correctly and safely
Service and Support team startup extractor and certify operation with dry-runs (no cannabis)
First cannabis batch completed and post-processing procedures explained and performed for each product type desired by the customer
ᐧCommissioning sign-off by Luna Technologies Service and Support team
Training
After commissioning, our Service and Support team remains on-site to train your extraction technicians in the following:
Safety: Safety is our top priority. We will cover all safety procedures, including PPE, electrical safety, fire extinguishers, and emergency exit routes.
Operation: We walk through the entire process from start to finish. This includes prepping and loading cannabis into the machine and starting up the equipment. We can show you how to use your machine per our pre-loaded recipes or help customize them for your specific needs.
Maintenance: We know that maintenance is just as important as proper operation, so we will train you to clean and maintain your equipment so that it lasts longer and keeps working at peak performance.
Pre-loaded recipes: With pre-loaded recipes, users can start extracting on day one without learning about specific techniques or settings needed for optimal extraction results. Our engineering team created these recipes as part of our R&D process, ensuring that each one offers consistent results time after time.
Custom recipes: For those who want more control over their extraction process or more freedom in creating customized formulas, we offer custom recipe training where our team can develop a formula specifically for you based on your desired end product profile.
Post-processing: Basic post-processing training is also included with each extractor. We can train you on the basics of how to refine your crude extract to create even more value in the form of concentrates and vape pens.
Remote Access: All of our automated extraction equipment is accessible remotely through a PC, Mac, or mobile app. We will set up your remote access account and show you how to check data logs, event history, and error logs and access all the controls you have in person.
Post-Commissioning Support
We know that the first two weeks of operation are critical to success. After commissioning, our Service and Support team blocks out time in their schedules to dedicate to each new customer. We are available to answer anything that may have been missed during our visit or any other questions that arise after starting up a brand-new piece of equipment.
Customer Support
At Luna Technologies, we believe that every customer deserves our attention. When you buy a Luna Technologies extractor, we are your technology partner for the life of the product.
Our commitment to superior customer service guarantees you will have a reliable, long-lasting partnership for the lifetime of your Luna Technologies extractor. From the moment you contact us, we will go the extra mile to deliver top-quality equipment and innovative solutions that exceed your expectations.
We are available to troubleshoot any issues that may arise after purchase, so you do not have to wait for a technician during times of crisis when you need to resolve system problems.
Luna Technologies has developed proprietary software that allows us to remotely connect to each machine and troubleshoot issues from anywhere in the world.
We offer unlimited access to our customer portal, allowing you to access updated SOPs, maintenance videos, instructions, etc.
We are dedicated to continuous improvement, which includes extraction software. Our Service and Support team will notify you and set up a time to install and train you on any software updates. We are continually improving our software to provide you with process improvements, expansive data logging capabilities, a better user experience, and customer-requested features.
Become a Luna Technologies Owner Today!
Luna Technologies is a state-of-the-art cannabis extractor designed and built by a team of experienced engineers and scientists. Our goal was to create an automated, hands-off machine that would be easy and safe to use and operate at full capacity maximizing profits.
Owning a Luna Tech extractor is the best decision you can make to future-proof your facility. On top of producing high-quality cannabis oil, we offer total support and service. We can provide commercial-grade equipment, extensive technical support, and customized solutions designed to provide you with precise extraction results.